TARGIT: WEBSITE REDESIGN

One of Targit's major touchpoints that desperately needed updating was their website. The goal was to introduce the updated brand while also bringing clarity, consistency, and an overall more user-friendly experience.



My initial approach was to start from the ground up by re-evaulating the site content to develop a more sensible navigation. The goal was to simplify and categorize content to make the menu more manageable.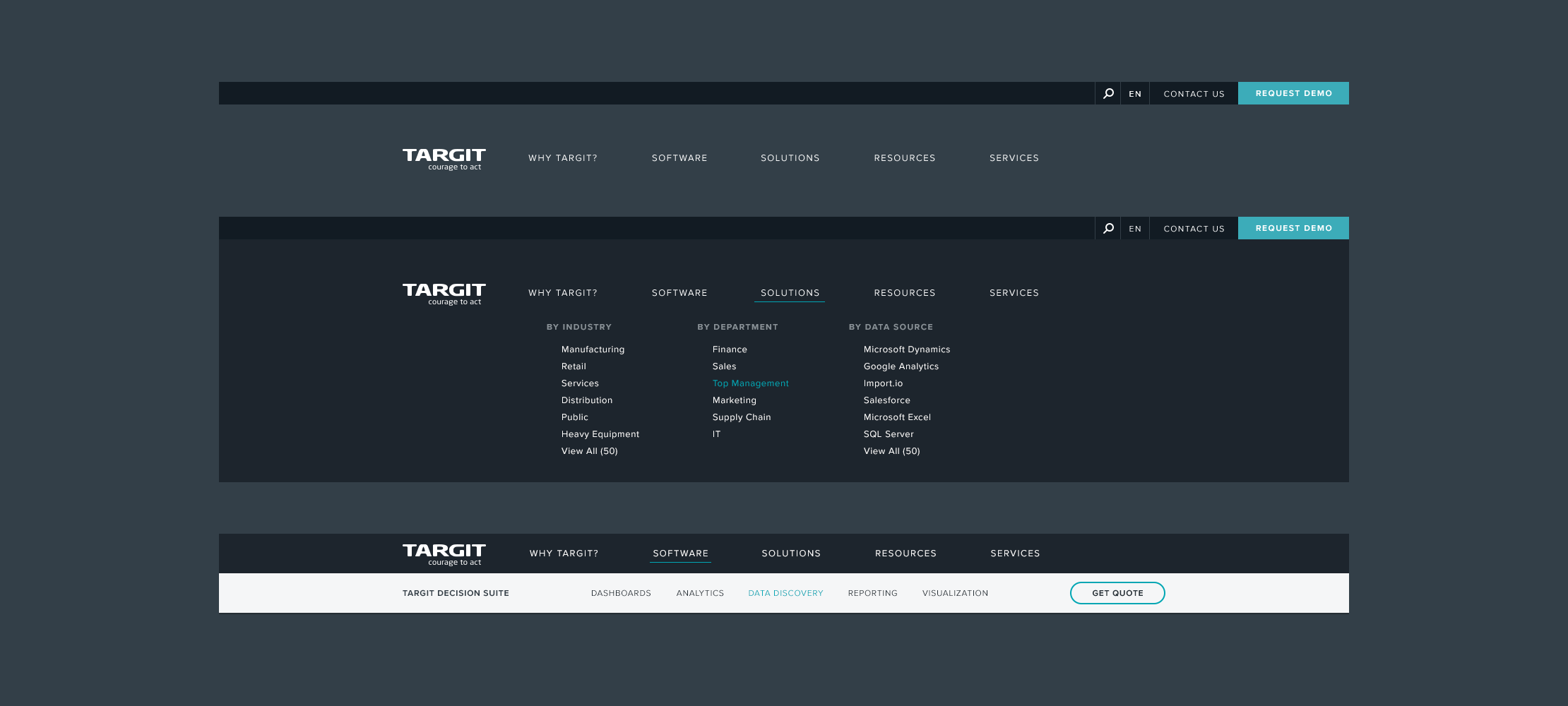 After designing out multiple primary page templates, a series of sticker sheets were created to allow the marketing team to build individual pages and elements on their own.





Upon joining Targit and assessing the current state of their brand concept, messaging, and design language, it was clear that an overhaul was necessary. Targit's brand was lacking in clarity, consistency, and overall execution.



The new concept was built around the idea of "More Than." Targit is more than just a software solution, it's a tool that enables faster, more confident decision making. For their customers, it's more than data, it's their livelihood, passion, and means to survive.
TARGIT: TRADESHOW GRAPHICS

Tradeshows are an integral part of getting Targit Decision Suite in the hands of real people. It was vital that these deliverables would stand out amongst a sea of other booths, while also highlighting what Targit has to offer.



CONCEPTS x NB x ARC'TERYX

Tasked with art directing a lookbook photoshoot for the release of a new shoe and outerwear collaboration; I worked directly with the creative director to develop the concept for the photo direction as well as assisted in finding and arranging props.




I'll spare you the third-person version; my name is Micah and I'm a graphic designer and illustrator based in Boston. When I'm not enthusiastically pushing pixels, you can find me sippin' on cold brew, dodging cars on my bike, poorly attempting to indoor rock climb, or frankensteining recipes together as I pretend to be an Iron Chef.


The benefit of having a super exotic name like Micah, is that when you go to coffee shops you get to experience the game of telephone in real time.



Some of my favorites:

Micha, Michah, Mika, Meeka, Machi(Mah-kye) to name a few.